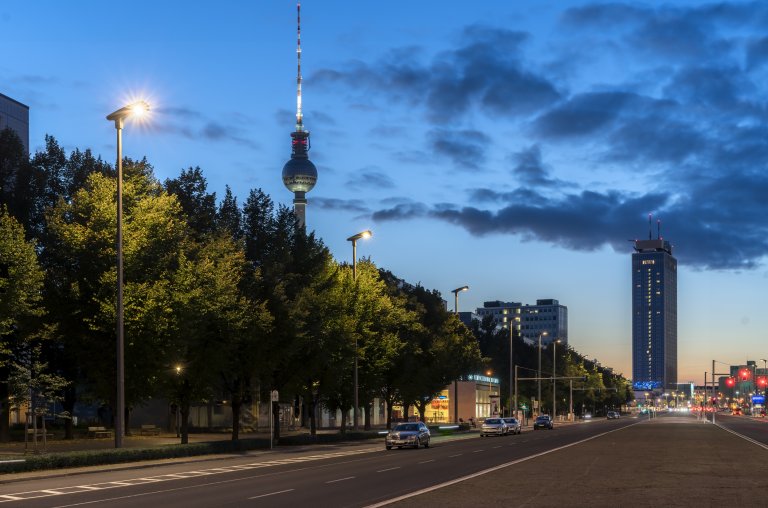 Replica luminaires
Berlin, Germany
Karl-Marx-Allee was ini­tially called Stali­nallee and the street was intended to demon­strate the pres­tige of the former GDR cap­i­tal of East Berlin. Fol­low­ing the dev­as­tat­ing destruc­tion of the war, Germany's ​"first social­ist street" was designed in a neo­clas­si­cal Stal­in­ist style in the 1950s. An entire sec­tion of Karl-Marx-Allee between Otto-Braun-Straße and Straußberger Platz was recently upgraded – as part of a mod­erni­sa­tion of Berlin-Mitte which had to be in line with accepted con­ser­va­tion prac­tice. Part of the project was the return of street light­ing with a futur­ist 1960s design to the area close to Alexan­der­platz.
Between 1962 and 1969, when the block-con­struc­tion build­ings in this sec­tion of the street were com­pleted, can­tilever street lanterns made at the social­ist VEB ​"Leuchte­bau Leipzig" were installed. The design of the lanterns was fairly bold and dif­fered from the typ­i­cal street light­ing used in East Berlin city at the time After only seven years how­ever it was demol­ished – pre­sum­ably for rea­sons of sim­plic­ity – and replaced with Leipzig Droplet Lumi­naires, which was the most common model used for stan­dard street light­ing in the GDR.
Almost 60 years later, 39 repli­cas of this former GDR lantern that are faith­ful to the orig­i­nal have now been returned to the same part of the city in Karl-Marx-Allee. At a height of 15.5 metres, the hexag­o­nal poles serve as a reminder of an age that has almost been for­got­ten. With their con­tem­po­rary light­ing tech­nol­ogy, it is now pos­si­ble to expe­ri­ence the extra­or­di­nary light­ing design of the 1960s once again.
---
project: Karl-Marx-Allee: Reconstruction of street lighting with 1960s design
---
client: Senate Department for the Environment, Transport and Climate Protection / Berlin Monument Authority
---
photographer: Claus Boeckh
---