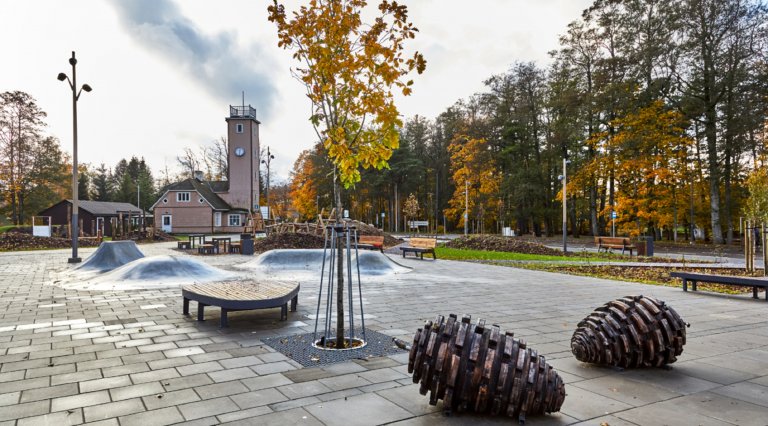 Kärdla Town Centre
Island Hiiumaa, Estonia
Kärdla is the only town on Estonia's second largest island, Hiiu­maa, and has around 3,000 inhab­i­tants. In recent years, the town's cen­tral square has been mod­ernised. As well as an open-plan market hall and a cul­tural centre, which bring fresh impe­tus to town life, the green areas have also been con­verted into new, safe urban spaces.
Until recently, the elon­gated square was dom­i­nated by traf­fic and parks. Now, fol­low­ing a sug­ges­tion by the land­scape archi­tects' bureau Mareld, the area has been split into a winter and summer square. This has resulted in a living space that is geared to human beings, which com­bines cul­ture and market life with green­space. The nearby stream has also been incor­po­rated into the plan­ning by the design­ers in the guise of an irri­ga­tion garden con­sist­ing of alder trees, foun­tains and wet­land veg­e­ta­tion.
In addi­tion, a new light­ing con­cept has been devised for this modern town centre, for which the choice of the plan­ners fell on the design lines Olivio Sis­tema and Olivio Uni­ver­sal with its high-qual­ity wooden pole. Here, Olivio cre­ates a look that blends in per­fectly with the green sur­round­ings. The indi­vid­u­ally con­fig­ured shapes of the lumi­naires mean the cen­tral square can be illu­mi­nated using var­i­ous light set­tings depend­ing on the appli­ca­tion. As a result, the new light­ing con­cept in Kärdla town centre has cre­ated a lively living space that pro­motes well-being.
---
client: Hiiumaa Municipality Government
---
architect: Skepast ja Puhkim OÜ, MARELD landskapsarkitekter AB, Bornstein Lyckefors Arkitekter AB
---
landscape architect: Martin Allik & David Gough, MARELD landskapsarkitekter AB
---
electrical installation: Silmani Elekter
---
photographer: Tiit Veermäe
---