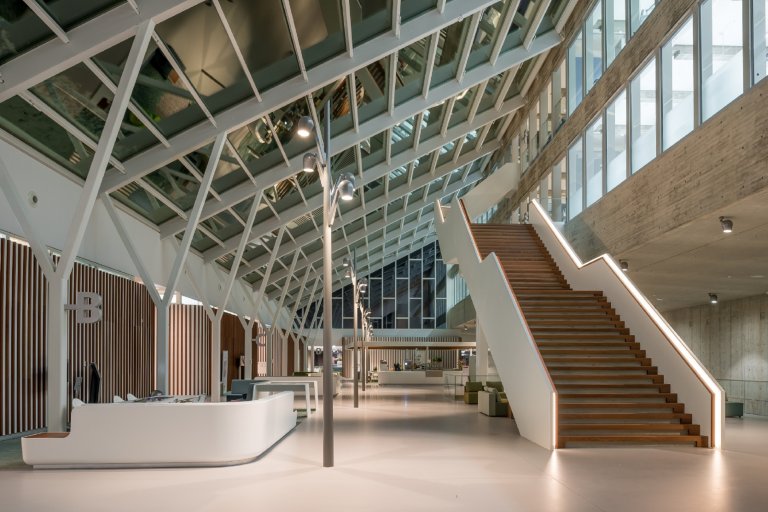 Dental clinic, Radboud University
Nijmegen, Netherlands
Nijmegen – for­merly known in Eng­lish as Nimeguen – is the oldest city in the Nether­lands, close to the lively old town of which is the green campus of the research-based Rad­boud Uni­ver­siteit. This sprawl­ing campus is a mix­ture of low and high build­ings – one of which is home to the Fac­ulty of Dentistry's clinic. Start­ing in 2014, this build­ing was refur­bished and expanded with the focus on sus­tain­abil­ity and design – includ­ing effi­cient, ele­gant light­ing by Selux man­u­fac­tured with the same goal. In the atrium Olivio system lumi­naires pro­vide flex­i­ble and effi­cient light.
Besides a modern façade, the dental facil­ity has also ben­e­fited from a new, cen­trally-located atrium. Due to its low height, the modern build­ing also draws its nat­ural, park-like sur­round­ings deep into its inte­rior. The view of the out­side is also unob­structed above head height, with the glass ceil­ing enabling plenty of nat­ural day­light to flood into its inte­rior to com­ple­ment the sophis­ti­cated arti­fi­cial light­ing. Plan­ners at the engi­neer­ing firm Deerns opted for the Olivio system lumi­naire – designed by the land­scape archi­tects at West 8.
With its floral look, Olivio brings nature into the atrium. Like flower­buds sprout­ing from a branch, the del­i­cate lumn­i­naire heads har­monise with the sur­round­ing land­scape – enabling the pres­ti­gious atrium to ​'flower' in a new light. The 5.5 metre high tapered pole with slop­ing arm matches the Y-shaped sup­port­ing con­struc­tion of the glass ceil­ing while the Olivio lumi­naires, which were orig­i­nally designed for exte­rior light­ing, sup­port the inte­rior with its largely open design.
The six pole-top lumi­naires manage to stand out in the light-flooded hall, while simul­ta­ne­ously blend­ing seam­lessly into the sur­round­ings. The warm 3000 K lumi­nous colour also cre­ates a pleas­ant sojourn qual­ity. In the adja­cent areas, Olivio sur­face-mounted lumi­naires on the exposed con­crete ceil­ings pro­vide a gentle tran­si­tion with the neigh­bour­ing rooms.
Close col­lab­o­ra­tion between dental spe­cial­ists, archi­tects and engi­neers has led to a sus­tain­able refur­bish­ment of this clinic, but also in enhanced com­fort, an organic design and effi­cient light­ing tech­nol­ogy.
---
client: Radboud University
---
architect: Inbo Amsterdam
---
lighting designer: Deerns
---
photographer: Jan De Vries
---