Sustainability to the point:
climate-neutral solar lighting in
La Coquille
Project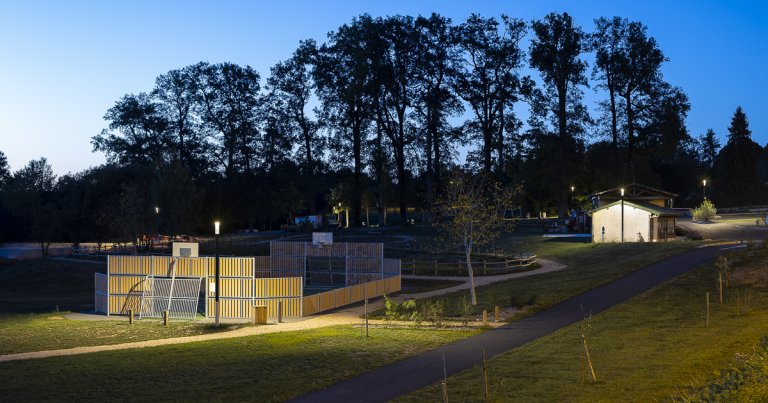 Lukida for a holiday resort surrounded by greenery for rest and relaxation
La Coquille, France
La Coquille is a French commune located in the Dordogne department, in the Nouvelle-Aquitaine region. Dynamic and authentic, this city in the southwest of France attracts with its rich architectural heritage, but above all with its location in the center of exceptional landscapes protected by a Natura 2000 label.
La Coquille campsite is located on the river la Cèze, in the forest with direct access to the beach. Nature there offers endless wonderful experiences. With the aim of not interfering with the environment in order to preserve biodiversity, Lukida solar light columns were chosen to illuminate the resort with playgrounds, holiday homes and pitches. Solar lights, which generate their own energy in a simple and ecological way and provide light independently of electrical grids, are in perfect harmony with the goal of taking biodiversity into account in human activities.
Lukida is ideal for public and private lighting applications such as gardens, parks, squares or side streets. The cylindrical shape of the solar modules allows installation in any orientation and completes the organic appearance of the luminaires. Lukida solar light columns bring sustainability in a nutshell, because their light is generated not only off-grid, but also without emissions, beautiful and economical at the same time, in harmony with nature.
---
object playgrounds and camping-car area
---
constructor Municipality of La Coquille
---
electrical installation Darlavoix
---
project management Departmental Syndicate of Energy Dordogne
---
photographer Xavier Boymond
---
product Lukida Solar light columns
---
Lukida solar columns generate energy themselves in an environmentally friendly manner and provide light independent of the availability of electricity networks.