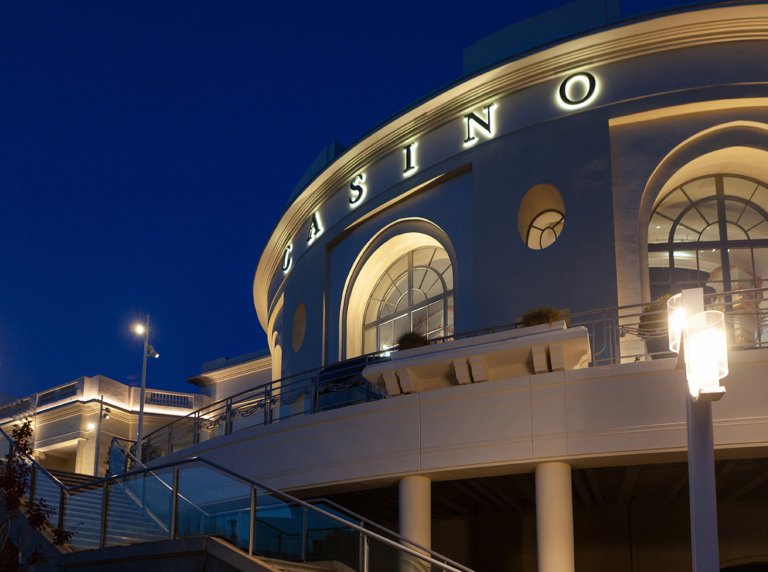 Casino de Royat
Royat, France
Located in the department of Puy-de-Dôme, in the region of Auvergne-Rhône-Alpes, the town of Royat is known for its thermal springs. Like many hot spring resorts, the city has a casino; built in 1874, and formerly called "The Chalet", it was recently upgraded. Following more than two years of work, its exterior and interior have been renovated to create an extraordinary casino with an immersive design.
With more than 180,000 visitors each year, the Casino is a major tourist attraction in the town, which is located 5 minutes from Clermont-Ferrand. For this reason the lighting renovation project focuses on aesthetic as well as safety aspects.
The façade of the Casino is lit with a warm white light, in a sober and pure manner. The second floor of the building alone is illuminated, while the first floor remains in the shadows – a deliberate dichotomy serving to create a hovering effect thanks to the surrounding trees and thereby highlighting the Casino's façade.
The exterior lighting consists of Olivio with a honeycomb grid and Aira, which guarantee the visual comfort of passers-by but also that of visitors who come to dine on the terrace. The height of the Olivio's 4-metre white poles is reminiscent of the glass elevator shaft that provides access to the Casino.
On the neo-classical façade, the Initio luminaires have been positioned in such a way to enable the narrow beams to highlight certain elements: the columns providing access to the gaming rooms, the rotunda housing the immersive screens, as well as the undersides of the arches and cornices.
---
client: Patrick Partouche & Christophe Silve
---
lighting designer: Jean-Philippe Corrigou de Caribou Concept
---
electrical installation: Energie Service
---
photographer: Gil Peytraud pour Caribou Concept
---
representation: Selux France
---