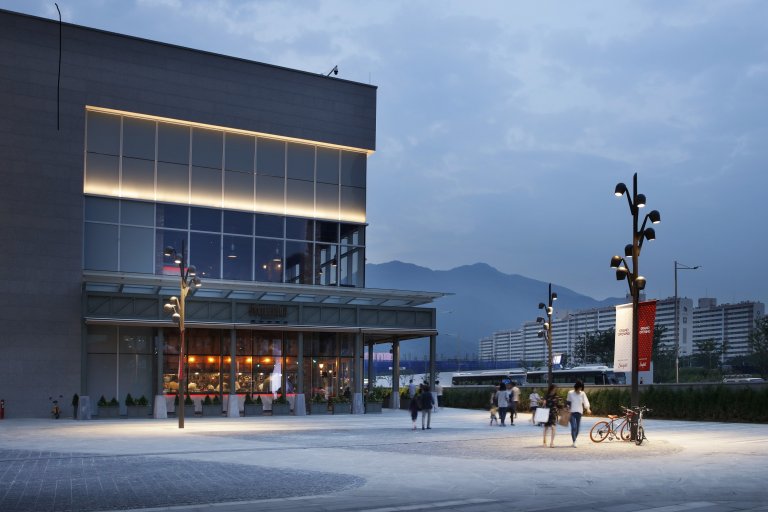 Starfield Lifestyle Shopping Center
Hanam, South Korea
Kore­ans love shop­ping and they love extrav­a­gance too. With its giant shop­ping malls, Seoul resem­bles a sin­gu­lar par­adise for shop­ping fans. In Hanam, just out­side the nation's cap­i­tal, the Starfield Lifestyle Shop­ping Centre – one of the largest shop­ping and enter­tain­ment cen­tres in the coun­try – recently opened its doors. Olivio LED system lumi­naires by Selux light up the entrance square and paths in the evening hours lend­ing them an indi­vid­ual touch. Besides per­fect light­ing during dark­ness, addi­tional com­po­nents like inte­grated loud­speak­ers and adver­tis­ing ban­ners ensure the mall a com­mu­nica­tive, urban space that uses one con­sis­tent design lan­guage. As well as the mod­u­lar Olivio exte­rior lumi­naires, Notch LED bol­lard lumi­naires guide vis­i­tors along the safest route in the grounds of the park or along foot­paths.
The idyl­lic town of Hanam, famed for its green­space and unique moun­tain back­drop, is pri­mar­ily a magnet for tourists on account of its prox­im­ity to the cap­i­tal. The shop­ping centre houses more than 800 brand names and opened in summer 2017, offer­ing a wide range of shop­ping and enter­tain­ment options. Embed­ded in the sur­round­ing hilly land­scape, with its organic design, the Olivio Sis­tema line adds a highly effec­tive touch. Around the lumi­naire pole, Olivio Grande lumi­naire heads have been installed in clus­ters of 6 or 8 with beams offset on var­i­ous levels – a spe­cial fea­ture of the Olivio system, which allows flex­i­ble con­fig­u­ra­tion depend­ing on the light­ing task.
Selux Exterior - Olivio LED - Hanam - Südkorea - Eingangsbeleuchtung
---
architect: Benoy London / Junglim Architecture Co.
---
landscape architect: Studio Outside Landscape Architects
---
lighting designer: Bliss Fasmann Inc.
---
design: Bitzro / Design Studio Lighn
---
general contractor: Shingsegae Property / Taubmann Asia
---
photographer: Ahn Sohyun
---
representation: SJL Corp.
---